Fee Schedules
Fee Schedule information contained within the Wyoming Medicaid website is copyrighted by the American Medical Association (AMA) and the American Dental Association (ADA).
Important Note: Before you enter and access the Medicaid Fee Schedules, you must read through and accept the required "License for Use of 'Current Procedural Terminology,' Fourth Edition ("CPT®")" agreement. If you choose not to accept this required agreement, you will not be granted access to the Medicaid Fee Schedules.
Please click on either the Procedure Code Search button or Download Fee Schedule button below to first view and accept the required agreement. Once you have accepted this agreement, then you will be granted access to the Medicaid Fee Schedule information provided therein.

Procedure Code Search
or
Download Fee Schedule
ICD-10 Diagnosis Codes
To view valid and invalid ICD-10 Diagnosis Codes, providers may look up codes online on the ICD10Data website. If the code has a red arrow (▶) next to it, it is no longer a valid code. If there is a green arrow (▶) next to the code, the code is currently active. To view the arrows and the individual codes in each series, providers can drill down to these individual codes and arrows by clicking on the available code series, such as M00-M99, for example.
Note: The CDC requests providers enter the most specific diagnosis codes on their claims. In the example below, code M54.5 (Low back pain) is not a valid or active diagnosis code. Therefore, if it is entered on a claim, it will cause a denial.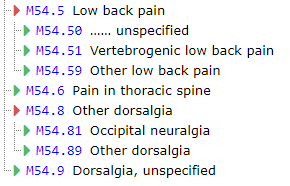 Additional information regarding ICD-10 codes can be found on the ICD-10 Resources web page of the CMS website .