What's New
Keeping Your Provider Number Active and Accurate
The COVID-19 Public Health Emergency (PHE) exceptions may be ending soon. To prevent Suspension for an expired license or Termination for a missed re-validation, please also check your contact information (i.e., phone numbers, address, emails) as these could also cause your provider number to suspend.
Please access your provider portal through the Discover Your Provider (DYP) website to update your provider records or submit a revalidation application.
For questions regarding your provider file, please contact HHS Tech Group at 1-877-399-0121.
Electronic Claim Submission Policy
Attention Wyoming Medicaid Providers:
Effective November 1, 2022, all original claims submitted to Wyoming Medicaid must be filed electronically. CNSI, the Fiscal Agent, will no longer accept paper claims for any Medicaid service.
Note: This first phase will be ending all original submissions of paper claims on November 1, 2022.
The next phase will include ending claim adjustments submitted on paper. However, more information and notices will be sent to providers before this occurs.
Provider Resources:
Please visit the Wyoming Medicaid website for additional future information regarding the end of Wyoming Medicaid original paper claims.
Durable Medical Oxygen Suppliers
Effective January 1, 2018, the Wyoming Department of Health (WDH) was required to comply with the Consolidated Appropriations Act of 2016 (section 503) and the 21st Century Cures Act (Section 5002) which limits federal Medicaid reimbursement to states for Durable Medical Equipment (DME) to Medicare payment rates.
Wyoming Medicaid must reimburse the Centers for Medicare and Medicaid Services (CMS) anything above the DME Medicare code rate, which is generated by the Medicare's Pricing, Data Analysis and Coding (PDAC) contractor, and includes Medicare utilization for those same codes.
WDH has been reviewing the Medicare rates and data from the last three years to determine if Wyoming oxygen rates are appropriate. Other rural states' rates have also been reviewed. It was found that Wyoming oxygen rates are the highest in the region, and in some cases, up to three times higher than other states.
In 2021, Wyoming Medicaid began decreasing the rates to comply with Medicare rates, while still providing access to care for members. Below are the rates that were impacted and the rates that will be updated as of July 1, 2022: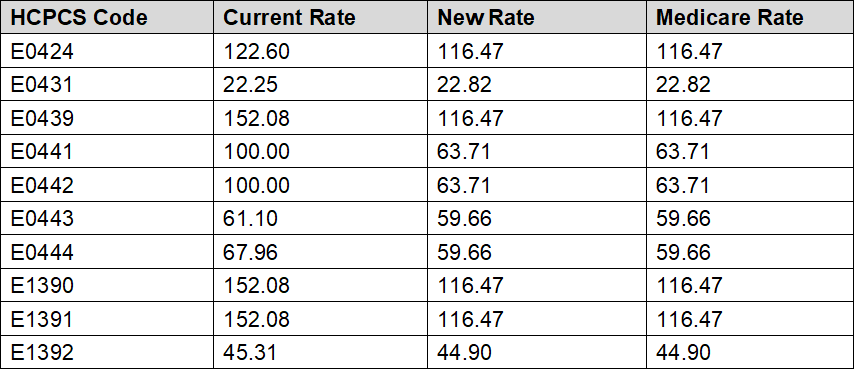 Wyoming Medicaid has also updated rates for the incontinence codes and established rates for T4543 and T4544. You will no longer need to send in an invoice for these two codes.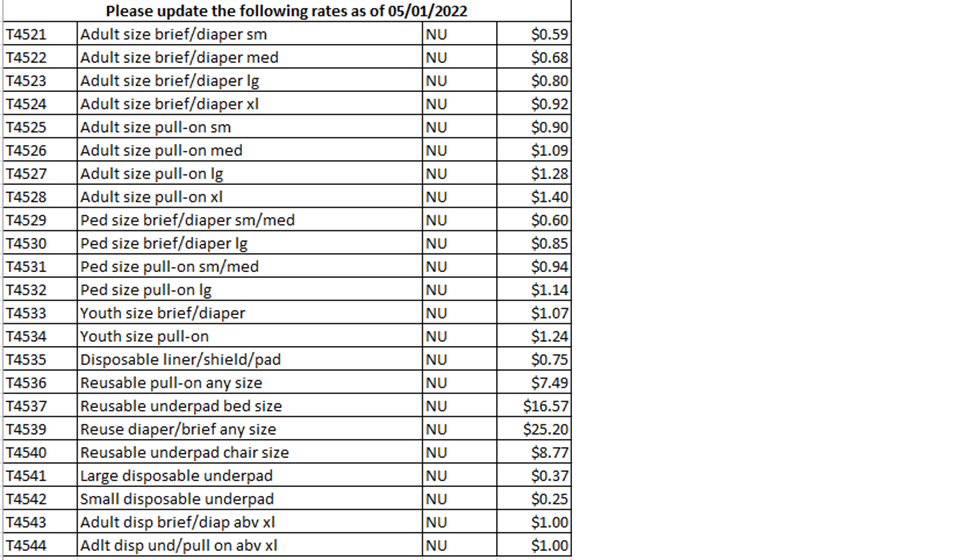 If you have any questions or concerns, please feel free to contact Amy Guimond at amy.guimond@wyo.gov.
Utilization Management and Health Management Services Transition
Attention Wyoming Medicaid Providers:
As identified in the Wyoming Medicaid Provider Bulletin issued on March 1, 2022, WYhealth Utilization Management (UM) Services including prior authorizations (PAs) will be transitioned from the current vendor, Optum, to a new vendor, Telligen, effective July 1, 2022.
Health Management functions under the WYhealth program will be transitioning to a hybrid State-run program in cooperation with Telligen and Mountain-Pacific.
The Utilization Management services include prior authorizations for:
Physical/Occupational/Speech Therapy over threshold limits
Outpatient Behavioral Health Services over threshold limits
Home Health Services
Durable Medical Equipment and Prosthetics and Orthotics (DMEPOS)
Skilled Nursing Services for Waiver Plans
PRTF Admissions and Continued Stay Reviews
Dental Services including Severe Malocclusion Program
Surgical Procedures
Transplants
Genetic Testing
Title 25 Inpatient Stays
Inpatient Behavioral Health Admissions and Continued Stay Reviews
Vision Services
Unlisted Procedure Codes
Additional Utilization Management Services transitioning to Telligen also include:
Post Pay Claims Reviews
Mortality Reviews
Inpatient Census Reports
PASRR II Evaluations
Disability Determinations
In preparation of the upcoming transition of WYhealth from Optum to Telligen, will institute the following:
Prior Authorization (PA) Blackout Period Effective June 16, 2022:

A two-week blackout period starting June 16, 2022, 5 pm MTN at which point the current vendor, WYhealth, will cease in accepting prior authorizations (PAs).
Emergent/urgent requests for Acute I/P BH and PRTF admissions and CSRs, PASRR, and SNF ECC requests received through iExchange and fax will be processed until June 27, 2022, at 5 pm MTN.
WYhealth will discontinue enrolling providers in the iExchange system starting June 13, 2022.

Last day to submit Inpatient Census Reports (ICRs) to WYhealth is June 17, 2022.
WYhealth customer service toll free number 1-888-545-1710 will transition to WDH on June 30, 2022, 5 pm MTN.
The provider and member website, WYhealth.net, will shut down on June 30, 2022, at 5 pm MTN.
Mail received after 5 pm MTN on June 16, 2022, will be returned to the sender.
WYhealth email addresses, wyhealthinfo@optum.com and wyhealth@optum.com will be turned off at 5 pm MTN on June 30, 2022.
WYhealth fax 1-888-245-1928 will be shut down at 5 pm MTN on June 30, 2022.
Please watch for communication from WDH/Telligen, or you can visit https://wymedicaid.telligen.com which will be coming soon, regarding Utilization Management and Health Management services explaining processes effective July 1, 2022.
If you have any questions regarding the Utilization Management transition, please contact Amy Buxton, Utilization Management Coordinator and Contract Manager for Wyoming Medicaid via email at amy.buxton@wyo.gov.
Questions regarding the Health Management functions or the WYhealth program transition can be directed to Sarah Hoffdahl, Health Management Coordinator and Contract Manager for Wyoming Medicaid via email at sarah.hoffdahl@wyo.gov.
Nursing Facilities and Swing Beds
RE: Private rooms
Section 19.1.1 of the Wyoming Medicaid Institutional Provider Manual states:
Medicaid reimburses for room and board for a semi-private room which is included in the per diem.
If a member wishes to stay in a private room within the nursing facility, the facility and member have the following options:
The facility can choose to bill Medicaid as normal, and accept the semi-private room reimbursement amount as payment in full for the private room

OR

The member or responsible party for the nursing home member can choose to pay for the private room in full, not the difference between the semi-private room and private room rates
Important! The nursing home may not "balance bill" the member for the cost difference between the semi-private and the private room and then submit a claim to Medicaid for the semi-private room.
This policy prohibits a Medicaid member or a responsible party (such as a spouse or parent of a minor child) from paying a provider facility the cost difference between a semi-private and private room and reimbursement above the Medicaid Allowable Payment.
This policy does not prohibit a payment by a non-responsible third party to upgrade the member from a semi-private room to a private room, provided that cost-difference payment is made directly to the nursing facility and not paid through the member or responsible party.
Wyoming Medicaid allows this form of direct third-party payment for several reasons:
First, because the practice of upgrading to a private room is technically not considered "balance billing" for a semi-private room paid by Medicaid
Second, because neither state or federal law, nor Wyoming's Medicaid Provider Manual expressly prohibits these third party payments
Third, because the Medicaid program will not be charged the cost difference between the semi-private room and the private room, allowing the third party payment is revenue neutral to Medicaid and may be beneficial to the Medicaid member
If a Medicaid member requests a private room that is not medically necessary, the facility may directly charge a non-responsible third-party for the difference between the amount that Medicaid pays and the cost of the private room.
The third party must be clearly informed that there will be an additional charge, the amount of that charge, and that the choice of a private room with the additional charge is voluntary.
The facility must inform Medicaid that a third party payment is being made on behalf of the Medicaid member for the private room and the relation of the third party payer to the Medicaid member by contacting the county's Long Term Care (LTC) Eligibility case worker.
If you have any questions or concerns, please feel free to contact Amy Guimond at amy.guimond@wyo.gov or (307) 777-3427.
Professional Claims – Admission Date Required when Place of Service is Inpatient
Attention Practitioners and Billers:
A change in billing requirements is in effect for when a member is inpatient in a facility. This change now requires providers/practitioners to enter the member's Admission Date to the facility on their Professional Claims or 837P claims transactions when the place of service is one of the following:
21 – Inpatient Hospital
51 – Inpatient Psychiatric Facility
61 – Comprehensive Inpatient Rehab
BMS Provider Portal Direct Data Entry
The Admission Date field is located within the "Claim Information" section. Open the "Relevant Dates" dropdown by clicking on the "+" symbol.

Enter the Admit Date in the Admission Date fields.

The Place of Service must be selected from the available options in the dropdown box, including the following inpatient options:
21 – Inpatient Hospital
51 – Inpatient Psychiatric Facility
61 – Comprehensive Inpatient Rehab

Note: Whenever an Inpatient-based Place of Service code is selected (21, 51 or 61) then the Admission Date is required.
The CMS-1500 Provider Manual will be updated in July to reflect this situational requirement in Chapter 6.4.1 Instructions for Completing the CMS-1500 Claim Form.

Past Notifications